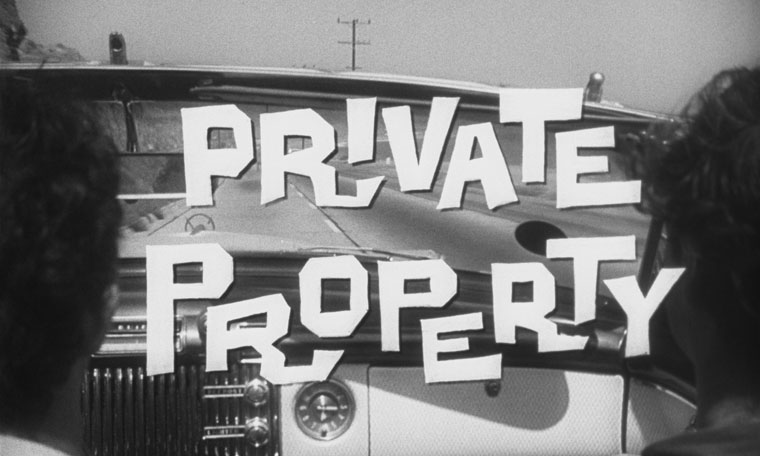 By Bart Bealmear
June 30, 2016


The 1960 independent feature, Private Property, is a rarely seen, sexually tense thriller. Anyone who digs film noir, crime dramas, or vintage indie flicks is going to want to see this movie. Believed to have been lost for the ages, a 35mm print has been found and restored, so, lucky you, now you'll have a chance to see it, as it'll be released this week on home video for the first time.
Private Property is the work of writer/director, Leslie Stevens (he'd later create the sci-fi horror series, The Outer Limits). Shot in just ten days on a minuscule budget, the movie is a critique of classism and bourgeois suburban life. It's also a beautifully photographed exploitation film. Stevens' cast his own spouse, Kate Manx, as the doting '50s housewife Ann, and the majority of the picture was filmed on location at or near their Beverly Hills home. Much of the story takes place while the sun is blaring, but when the night comes, those same areas are transformed into creepy, shadowy settings.
Corey Allen and Warren Oates play criminal drifters, Duke and Boots. Allen worked primarily in TV, but will be familiar to many as Buzz, the lead delinquent in Rebel Without a Cause (1955). Oates is now remembered as one of Hollywood's great character actors, having appeared in such revered pictures as The Wild Bunch (1969), Two-Lane Blacktop (1971), and Bring Me the Head of Alfredo Garcia (1974).
Though we know next to nothing about the backgrounds of Duke and Boots—factors that contribute to the ubiquitous tension in Private Property—it is clear from the get-go that Duke calls the shots. During a conversation early in the film, Boots admits to being a virgin, and Duke promises to find him a "twitch". The first woman they spot is Ann, and they begin following, tailing her to the home in the hills she inhabits with her square husband, Roger. From there, Duke and Boots begin spying on her from a nearby vacant house, with the movie's audience complicit in their voyeurism.
Duke then hatches a long game strategy to seduce Ann and pass her off to Boots. Duke, in his relentless, yet cool pursuit of Ann, exhibits such sociopathy that Donald Trump would praise him for his powers of skillful manipulation. Brilliantly portrayed by Allen, such a character is often seen as a heartless, one dimensional creature, but as Duke's wicked plan to ensnare Ann progresses, there are hints that he is falling for her.
Kate Manx gives a nuanced performance as the lonely lady of the house. Ann is generally a cheerful person, but there is a discernible sadness that is just below the surface. Her husband, Roger, is frequently absent, and when he is around he callously disregards her frequent overtures for sex ("wife noises," he calls them). She is faithful to her spouse, yet has been so deprived of tenderness and physical intimacy that she is seduced by the smarmy Duke, which challenges her morality. Knowing that Manx would commit suicide (in 1964, shortly after her divorce from Stevens), one can't help but feel a heightened compassion and anxiety for the vulnerable Ann. The actress would star in just one other film—another written and directed by Stevens, in which Oates also appears—Hero's Island (1962).
Warren Oates isn't on screen as much as Allen and Manx, but he too shines here. Like Ann and Duke, Boots is a complex individual. He's dopey, but not dumb; vicious, yet sensitive. He says he wants to be with a woman, but he may be a homosexual. Boots is actually the loneliest soul in the picture. For much of Private Property, he's on the outside looking in.
Late in the film, Boots gazes lovingly at Duke (in a blink-and-you'll-miss-it moment), revealing he thinks of his partner in crime as more than just a buddy. As is the case with Ann, Boots needs Duke in a way that society will not accept, his confusion over who he thinks he's supposed to want made clear in the riveting finale.
In many ways, Private Property was ahead of its time, especially in regards to the Ann character. Her descent into moral ambiguity, as well as her obvious—and at times kinky—sexual desires (in one scene, she drapes Duke's belt around her neck and tightens it), were progressive components in Hollywood movies at that time. Not too mention the sexual tension between Duke and Ann that is so intense it threatens to boil over into your popcorn. The Motion Pictures Association deemed Private Property "unacceptable" due to, among other things, its overt depictions of "lust," and was subsequently denied the MPA's Production Code seal. In a few years, cutting edge films like Who's Afraid of Virginia Wolf (1966) and Bonnie and Clyde (1967) would lead to the creation of a more modern ratings system, but it was too soon for Private Property. Even Manx's "overly suggestive postures" rattled the conservative censors.
Without the all-important seal, Private Property was effectively doomed to obscurity. Passed over by major distributors, it was released by the independent Kano Productions in the spring of 1960, before quietly vanishing. Though lost for decades, a 35mm print was recently discovered by the UCLA Film & Television Archive and restored by Cinelicious.
The restored Private Property will be released in a limited edition Blu-ray/DVD combo pack by Cinelicious Pics on October 25th. Order it via the Cinelicious Pics website, or get it on Amazon.